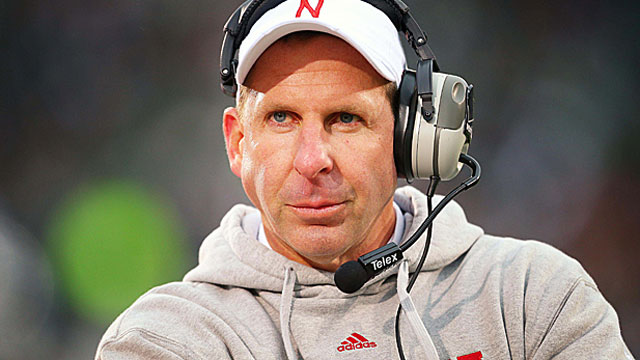 Bo Pelini isn't as intense when he's not on the sideline, or losing. 
(USATSI)
Bo Pelini is looking neither as he stands outside his office Friday at the Tom and Nancy Osborne Athletic Complex. He's waiting for me, waves as I step off the elevator and introduces himself. And this just won't do.
"You're the head football coach at Nebraska," are the first words out of my mouth as I meet Bo Pelini. "What are you doing out here, waiting on me? Know your place."
Pelini gives me that look -- equal parts confounded and dumbfounded, like the look he gave for this quick selfie -- and says: "What are you talking about? I'm just a regular guy. Don't believe what you read. I'm not a lunatic."
Matter of fact, I tell Pelini, you are a lunatic. On the sidelines, anyway.
"Everyone's intense on the sideline," he says. "You telling me Nick Saban isn't intense on the sideline?"
Sure, but he doesn't have that look.
"What look?" Pelini wants to know.
Well, have you seen Fargo?
"Yeah."
You know the killer?
Pelini, still standing near his office door, can't believe where this is heading. "The guy that puts people in the wood-chipper?"
That's the one. You look like that.
"Come on," Pelini says. "I don't look like that. That guy's a lunatic."
Bo, I say. So are you.
He just stares at me. Confounded and dumbfounded, leavened by a little wood-chipper.
_________

The annual Bo Pelini remake is in full effect this spring, as it was last spring. This is the time of year when the media can't see Bo Pelini, sideline maniac, so we finally notice the rest of him.
Last year it was the video of Pelini doing the Harlem Shake on the first day of spring practice. It was the picture of Pelini and his son, Patrick, at Cameron Indoor Stadium taking in a Duke-North Carolina game. And it was the touchdown run during the spring game by Jack Hoffman, the 7-year-old boy with brain cancer who was taken in by running back Rex Burkhead and then by the rest of Pelini's football program. Jack's touchdown went viral. Maybe you saw it. By all means, see it again.
Bo Pelini, nice guy? That's what we saw last spring. But then came the 2013 season, and out came Bo Pelini, snarling dragon. There was the leaked audio of Pelini cursing about Nebraska fans who had booed quarterback Taylor Martinez. There was the awkward halftime interview during the Iowa game when Pelini was asked what he thought about his team's turnovers and he spit out, "What do you think? What kind of question is that?"
And then after the game, a loss in which he waved his hat menacingly close to an official, Pelini was asked about his job security and he growled: "If they want to fire me, go ahead. I believe in what I've done and I don't apologize for anything I've done."
But here we are, the day before spring practice starts, and the dragon is gone. Out comes the groundhog, the cute and cuddly figure who sent a silly tweet to a Bo Pelini parody account, and who loosened his grip on the media by deciding to open spring practice, and who re-did his own office -- downsizing his busy and important work space to the side of a storage closet to create more room for staff and recruits to hang out.
And here come the stories this spring, just as they were written last spring, and Pelini doesn't know what to make of it all.
"I don't think I've changed," he says. "I know I haven't changed. I get that a lot, but it's from people who really don't know me. People back home [in Youngstown, Ohio]? They know me, and they know I'm the same guy I've always been."
And who is this guy? He's a snarling dragon. And a softie. If you don't see the soft side, you're just not looking. Or maybe you looked away, turned off by the dragon.
"If that's the case," he says, "then it's my fault. I don't blame anyone but me."
_________

To know Bo Pelini, don't talk football with him. Talk about his two dogs, Blitz and Lucy, golden labs who hear him talk in a voice raised an octave higher than you've ever heard Bo Pelini.
Talk about his children: Patrick, Kate and Caralyn. Patrick, he'll tell you, is a high school freshman quarterback and defensive back who already has bigger feet than his 6-foot-1 dad but the same intense wiring. Kate is more like her mother, Mary Pat, always upbeat and grounded, always reading a new book, or re-reading something in the Harry Potter series. Caralyn is the one most likely to spend time with herself, making up stories with her dolls much like Bo, as a kid, used to go to his backyard and try to recreate whatever game he'd just watched on TV.
Patrick is in a carpool at the high school now, but Kate and Caralyn are still taken to school every day by Bo. Kate kisses dad and goes inside. Bo walks Caralyn into the building.
Bo goes to their games, their dance and piano recitals, their gymnastics meets. And when he can't go, he's not happy about it. But sometimes an event happens on game day, so Bo will be in the locker room before the game, putting down the Tom Clancy book he's reading to relax and texting Mary Pat, "What's the score?" Or, "How did Kate's dance go?"
To know Bo Pelini, don't talk about the biggest contract non-extension in Nebraska history. Well, no, maybe you should talk about that. Because here's what you would discover after asking Pelini about the fact that second-year Nebraska athletics director Shawn Eichorst hasn't extended his contract yet, and that people are convinced that's an ominous sign.
"I got [the extension] last week," he says.
Why hasn't it been announced yet?
"I got it last week and put it on the back of my desk and told Shawn I'd get it to him in a few days. Then he was out of town, and I forgot about it. And on Wednesday [of this week] I saw it under some stuff: 'Oh s---. I haven't signed it yet.' So I signed it, and that's that."
And this is the only other football talk you'll get about Bo Pelini today, at least from me: Does he deserve the contract extension? Is he the right coach for Nebraska's football program? It's complicated. On the one hand, his 57 victories since 2008 are No. 9 in the country, and Nebraska is one of just three schools -- joining Alabama and Oregon -- to win at least nine games in each of the past six years. His players graduate at an exceptional rate, with 118 of the 132 who have become seniors under Bo Pelini getting a degree.
There has been nothing but winning, but there have been no breakthrough moments. No NCAA or conference titles, no 12-win seasons that had Nebraska in the national conversation. Nebraska football expects to win at least nine games a year and graduate most of its players. Nebraska football also expects more. This season the Huskers will have a more experienced defense and a new quarterback, getting the offense out of the four-year grip of the talented but erratic Taylor Martinez. Does it add up to a breakthrough season? Maybe so. If it happens, more people will get to know the Bo Pelini you don't see on the sideline.
To know that Bo Pelini, talk to him about Jack Hoffman. Or better yet, talk to Jack Hoffman's dad about Bo Pelini, but not about the stuff you already know -- the touchdown. The video that went viral. As it relates to Bo Pelini, the Jack Hoffman story didn't start there.
Didn't end there, either.
By December 2012, Jack was an honorary member of the Nebraska football family because of Burkhead. But 2012 was Burkhead's final season, and Andy Hoffman took his son, Jack, to the postseason banquet expecting to say goodbye to Burkhead and their VIP access to the program. Pelini pulled Andy aside and said, "Andy, I know Rex is graduating. I want you to know, as long as I'm around here, Jack's gonna be a part of this program. Jack's always gonna be a big part of this program.'"
Andy Hoffman tells me that story and then stops, because he's crying a little.
"I've never met a player who wouldn't lay down on the railroad tracks for Bo," Andy finally says. "I want to play for the guy and I'm fat, old and out of shape."
A few months later came the touchdown run. That's what everyone knows about. Here are two things people don't know, things Andy Hoffman told me, things you need to know if you want to know who Bo Pelini is.
Before the game: Pelini has the Huskers in the locker room, talking about what they need to accomplish on the field, and then he brings Jack Hoffman before the team and tells them, "You guys know Jack. Today, Jack's gonna score a touchdown for the Huskers."
"The place just erupted," Andy Hoffman says.
After the game: Bo presents Jack with a game ball in the locker room, and then everyone took a knee for a moment of silence. Andy Hoffman is inside the locker room, but watching from the perimeter. As heads are bowed, Andy sneaks a peek and this is what he sees:
Bo Pelini reaching down and grabbing Jack's hand.
_________

The dragon is there, and Bo knows it. He wants to keep the dragon at bay, and he thinks he's getting better at it, but he knows the dragon isn't going away. The sideline explosions, snarling postgame exchanges with the media -- they're going to happen.
"I'm trying to direct my intensity better," he says. "I've been better, but it only takes one time for people to get talking, and I'm trying not to give anyone that opportunity.
"Even as a kid, I was intense," he says, and this is what I've learned from people who knew Pelini in Youngstown: He got technical fouls on the basketball court and cried after every loss by the high school football team. He wanted to win. Still does, of course, and that's when the dragon comes out. After losses.
So on those handful of occasions -- four times a year, every year, in his six seasons at Nebraska -- Pelini goes home and decompresses. He wants to be the husband and dad, not the coach, but it takes time to transition so he goes to his room and closes the door and lays on the bed for 15 minutes, maybe 30, getting his mind right. When the door opens, he doesn't want to be Bo Pelini, suffering football coach. He wants to be Dad.
That's what we talk about for 30 minutes, Bo Pelini as father and person as opposed to Bo Pelini as football coach -- other than the question about his contract extension getting lost on his desk -- but I'll be honest with you: I came to this interview with a test for Bo, and he failed it. Maybe he's not so different from other big-time coaches. Sure, he was waiting for me outside his office, but he didn't ask me about ...
"Hey," he says as I stand to leave, reading the words on my shirt. "'Project Shanks.' What is that?"
He just passed the test. This, I wanted him to ask me about. A real person -- a real nice person, anyway -- shows interest in others. And Bo just showed an interest. So I tell him about Chris Stuckey, a young man from Texas I met on Twitter and then have seen at a Rangers game and during Super Bowl week in Dallas. I tell him Chris was in an accident years ago that left him a quadriplegic, but that this kid is tougher than any five people I know. He writes, he does radio, he started his own website: Project Shanks.
"I'd like to be involved with a guy like that," Bo tells me. "You think you can get me one of those shirts?"
Yeah, Bo. I think maybe so.